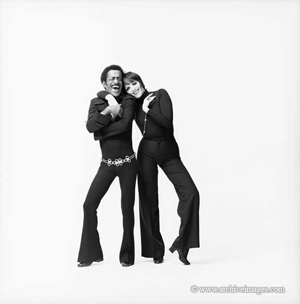 Sammy Davis Jr. and Liza Minnelli
1976, Fort Lauderdale
Liza Minnelli's birthday is March 12th. Liza's relationship to the Greene family goes back to her youth, when her mother, Judy Garland, and Milton worked together on numerous projects. Joshua and Liza remain friends to this day. Below is an excerpt from But That's Another Story by Amy & Joshua Greene.
"In 1976, Marge and Irving Cowan, who owned the Diplomat Hotel in Hollywood, Florida, hired Liza and Sammy to perform on New Year's Eve. With Leslie Bricusse and Marvin Hamlisch in tow, the Greene family and Davis clan spent two marvelous weeks together. This lovely image was used for the invitation and advertising."
Excerpted from
But That's Another Story
, by Amy & Joshua Greene. Published by powerHouse Books.