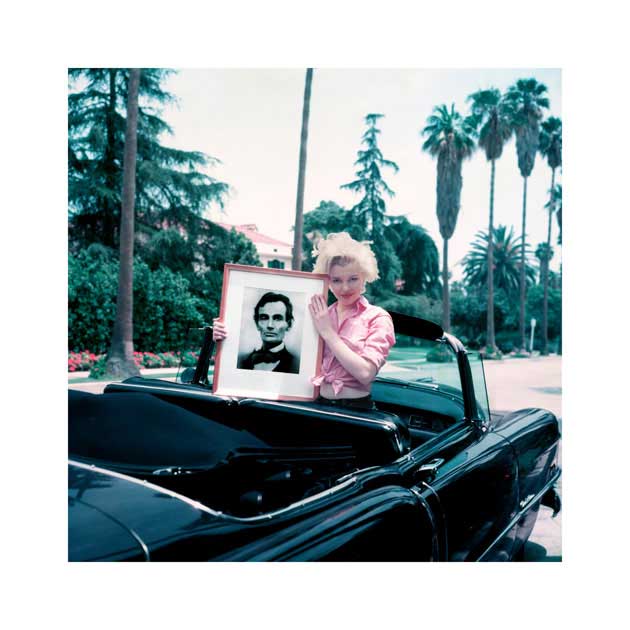 We'll be having a week-long sale starting on Presidents Day!
President's Week Sale
Starting Monday, February 16th (Presidents Day) through February 22nd, you can get a limited edition print of Marilyn Monroe holding a portrait of her hero, Abraham Lincoln for $525 (30% off its $750 regular price) and receive a 'Marilyn Monroe Ready for an Evening Out' Advance Continuous Tone (ACT) Print as our gift to you (a $150 value). 'Marilyn Monroe with a Portrait of Lincoln' is part of the 'Portraits of an Era collection and is limited to an edition of 500. On a Los Angeles street in 1954, Milton H. Greene took this image of Marilyn Monroe in the back of a Cadillac holding a portrait of her hero — Abraham Lincoln. Jack Benny gave the car to Marilyn for appearing on his television show. This image was published for the first time in 1996 in The Archives' best-selling book Milton's Marilyn. It was not exhibited until the release of 'Portraits of an Era' in 2001.

More about the photo above...

It's 1954, and Marilyn Monroe stands in her shiny black Cadillac – given to her in lieu of payment for a television appearance. The car's top is down, and palm trees in the background indicate she's in her hometown, Los Angeles.
Monroe is 28, but her pale skin and blonde hair makes her look younger. She's wearing a pink gingham shirt, tied above the waist, and dark blue jeans. She's wearing Joe DiMaggio's wedding ring. Sexy yet eternally gamine, she seems carefree and relaxed – a very modern movie star.

It's the very image of American affluence, made doubly iconic by another picture within – the framed photograph of Abraham Lincoln that Marilyn's holding up to her face. In one shot, she pouts impishly, while in the next, she breaks into a girlish smile.

The photo was taken by Milton Greene, who would soon become Marilyn's business partner as she plotted her escape from Hollywood. Little-known at the time, it was later published in Of Women and Their Elegance, a 1980 book of Greene's portraits, with a rather fanciful text provided by novelist Norman Mailer.

In this imagined memoir, Mailer has Marilyn say, "The truth was that I was afraid everybody would laugh themselves to death at the thought of me having a crush on such a famous President. But I truly adored Abraham Lincoln. I used to have dreams that I was his illegitimate great-granddaughter. 'Why not legitimate?' asked Milton. Before it was over, I let him talk me into taking a picture with my great-grandfather in my Cadillac car."